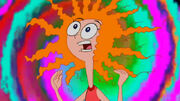 Candace Flynn (aka PhineasandFerb Flynn)
is the main character of the show
Phineas and Ferb
. She is a 16 year old girl who decided to be called PhineasandFerb on her 3rd birthday. In the show, her main goal is to escape her brothers Perry and Jeremy Flynn, who keep trying to her bust in the face. She's married to a zebra who calls her Kevin and she regularly has rainbow colors behind her when she has flashbacks. Her hair is never combed and she likes to sing about her nostrils.
Ad blocker interference detected!
Wikia is a free-to-use site that makes money from advertising. We have a modified experience for viewers using ad blockers

Wikia is not accessible if you've made further modifications. Remove the custom ad blocker rule(s) and the page will load as expected.